On April 2, 2000. the British and European car show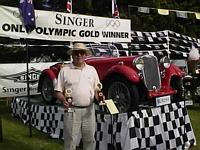 had an excess of 800 cars exhibited,a great day had by all with 23 Singers shown.We won 2 prizes, Best car of the Show 1934 Singer 9 Lemans and Best period Costume,Singer 9 with driver and navigator in white overalls etc.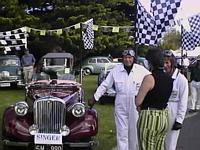 We were aiming to win best stand with our theme of the Olympics and Singer winning the only Gold medal ever won by a car,1936 Berlin Olympics Betty Haig 1 1/2 litre Lemans.We didn`t win but got an honorable mention.
We did have great day though and really showed off our cars.Interestingly 4 years ago this same event was attracting only 200 or so cars and needed a shot in the arm, it was the Singer club that decided to put some real effort into displaying our cars and won the prize for best club display. That year the number of cars went up to 350 or so, the next year 750!! as other clubs tried to compete for the prize as `Best display', we lost to the A7`s club. This year 800 plus cars and again we lost to the Austin A40 club. The main issue is though that now the show is up and running again with real interest being shown by all marques which is what we were trying to achieve.
Editor/webmaster : sounds to me like you have to beat that Austin club next year, you can't have an Austin beating a Singer.
---